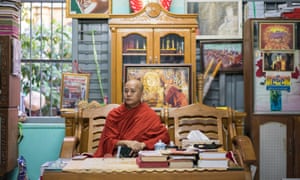 This article describes a tragic reality on the landscape of Inter Religious relations. There are two elements here that may be unfamiliar to Western readers: 1. Buddhist-Muslim relations are not a first thought where Islam is concerned. Western readers tend to think of Christianity and Judaism, when envisioning or investing in improved and more constructive interfaith relations. 2. There is a tendency in the West to presume Buddhism is the quintessential tradition of peace, but here we see a disturbing picture in a Buddhist-predominant locale.
The problems defined are serious, long-standing and entrenched. People seriously involved and devoted to interfaith, must take this situation seriously. [ed.]
"Jihadi Muslims want to overwhelm the country, so we have to protect it," says Eindaw Bar Tha, the monk lying on the floor.
This is the headquarters of the Committee to Protect Race and Religion, or Ma Ba Tha. It is an ultra-nationalist Buddhist organisation, and for years it has been spreading anti-Muslim sentiment across the country from this unassuming base. Self-anointed protectors of Myanmar's dominant Buddhist religion, Ma Ba Tha members have sown insidious new tensions in Mandalay, a diverse city home to sizeable Muslim, Christian and Hindu populations.
In 2014, the hostility culminated in anti-Muslim riots widely linked to Ma Ba Tha – a tension that's still present throughout Mandalay. On the street, a Muslim man passing a monk freezes up for fear of saying a wrong word. A Buddhist taxi driver, driving away from an Islamic neighbourhood, mutters: "So many Muslims."