"So we believe the media, civic society and governments should refuse to legitimise these ludicrous caliphate fantasies by accepting or propagating this name. We propose that 'UnIslamic State' (UIS) could be an accurate and fair alternative name to describe this group and its agenda – and we will begin to call it that."
The intervention marks an intensification of a campaign by prominent British Muslims to deter young men from seeking adventure with the militants. It follows a recent decision by Muslim leaders to issue a fatwa condemning British jihadis.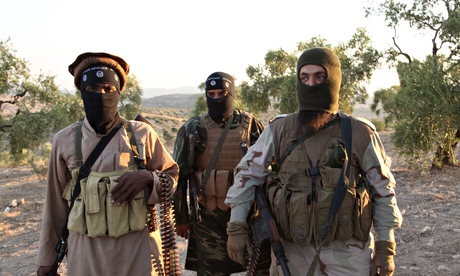 Isis soldiers: 'The group has no standing with faithful Muslims.' Photograph: Alamy
Signatories to a letter to David Cameron, including Sughra Ahmed, president of the Islamic Society of Britain, admit that UK Muslims need to do more to dissuade their young men from being misled into taking part in the group's "hatred and poison". "We shall take every opportunity to continue to say clearly and loudly 'not in our name' and 'not for our faith,' " they write.