The true horizon of religious life is at the place where it can transform life in the world in good ways.
Elizabeth Scalia in
The Guardian
offers a rich piece reflecting on lessons Americans (as the stuff of a world culture) can learn from this Pope, the first in 600 years to voluntarily leave office. Her point of departure is the way the American media covered the day and the moments of the Pope's departure,
His leave-taking confounded them again. What was happening before their eyes did not equate with American understandings of job identity, power or utility. The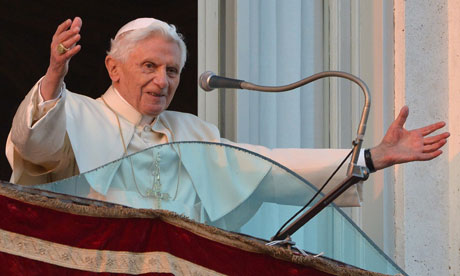 strangeness of it all almost seemed to evoke a sense of wonder and if so, that's a very good thing – not just for the press, but for all of us watching in America.
Saint Gregory of Nyssa taught that "ideas lead to idolatry; only wonder leads to knowing." If we are caught in wonder at Benedict's departure, then this "teaching pope" has provided one more thoughtful lesson that could deeply influence Americans willing to ponder it out.
Read the whole article here: